As house prices rise, Iraqis find they can't go home again
Many who sold at rock-bottom prices as they fled violence are now priced out of their old neighborhoods.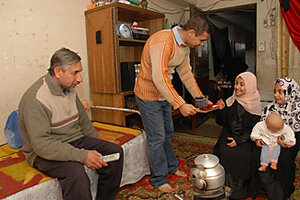 Tom A. Peter/The Christian Science Monitor
The improved security situation in Iraq isn't unmitigated good news for Mahmoud Jasim Mohamed.
Mr. Mohamed once lived in a family-friendly neighborhood, the Baghdad equivalent of New York's Brooklyn Heights. "My family didn't think we would ever leave," he says, noting the excellent schools.
But after the US-led invasion, his Sunni neighbor began threatening Mr. Mohamed, a Shiite. When the neighbor killed four of Mohamed's cousins, Mohamed and his family fled, selling his home of more than 20 years for $126,000 – just half its market rate.
Now, with relative calm returning, Mohamed is trying to reconstruct his former life. But while he's happy about the greater security, he's confronting a troubling reality that underscores that recovery will take more than an end to fighting. Like many Iraqis, he can't afford his old neighborhood.
"Many people sold their houses during the sectarian violence and lost money," says Basil Kalf, a Baghdad real estate agent. They used the money to flee to safety outside Iraq or within a quieter part of the country. While some managed to reinvest their money into another venture, many more struggled to find work and made short work of their savings.
It wasn't until the first major security gains in late 2007 that housing prices began to climb gradually toward normalcy once more. Today, real estate agents say that with the exception of several neighborhoods, prices are close to a full rebound, even surpassing pre-war values in some areas.
For example, in Ghazaliya, a neighborhood in western Baghdad, houses used to go for between $60,000 and $76,000, then they dropped to between $42,000 and $51,000, and in some cases went for as little as $25,000. Today, some houses go for as much as $102,000.
---