In Israel, no settlement deal for US envoy – just more settlers
During Mitchell's visit, activists set up 11 outposts. A report said the number of Israelis living in the West Bank has surpassed 300,000.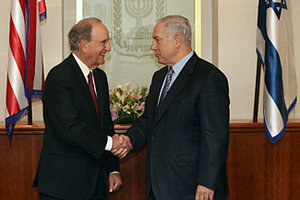 Dan Balilty/REUTERS
US Mideast envoy George Mitchell wrapped up three days of talks here on Tuesday, heralding "good progress" in his meetings with Israeli officials. But he made no mention of a much anticipated agreement on the most visible point of contention in recent weeks and a key issue for Arabs: freezing settlement construction in the West Bank.
One of the main goals of Mr. Mitchell's visit, part of a regional trip that includes stops in Arab Gulf states later this week, had been to get Israeli Prime Minister Benjamin Netanyahu to agree to stop the expansion of settlements – a move President Obama sees as a jumping-off point to getting Israeli and Palestinian leaders to agree on a two-state solution. Palestinian Authority President Mahmoud Abbas has said that he will not return to talks with Israel unless such a freeze is instituted.
Figures released by the Israel Defense Forces (IDF) this week indicate that settlements grew at a rate of 2.3 percent for the first half of this year, pushing the total number of Israelis living in West Bank settlements above 300,000 for the first time.
---