Erekat: US efforts to jumpstart Israeli-Palestinian talks hit 'dead end'
Saeb Erekat, the chief Palestinian negotiator, said today that Obama's efforts to revive Israeli-Palestinian peace talks have hit a dead end. His comments reflect dwindling Palestinian hopes for a two-state solution.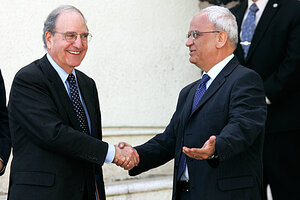 Nasser Ishtayeh/AP/File
The White House has hit a wall in its attempts to revive Israeli-Palestinian peace talks, a senior Palestinian official said Tuesday.
Saeb Erekat, the chief Palestinian negotiator, said that recent US efforts to get the two sides back to the negotiating table – or at least nearby tables as part of proximity talks – had reached a "dead end."
"It appears that all the consultations that have happened with the Israeli government and the American administration and other states have reached a dead end, with Israeli positions insisting on a continuation of settlement," Dr. Erekat said on the Voice of Palestine Radio today.
IN PICTURES: The Israeli separation barrier: A West Bank wall
As Palestinians have become increasingly disillusioned with a negotiated two-state solution, they have gravitated toward two main alternatives: unilaterally declare statehood, or back a "one-state solution" in which a common border and higher Arab birthrates would force Israel to become either non-Jewish or non-democratic.
---
Follow Stories Like This
Get the Monitor stories you care about delivered to your inbox.