Iran foreign minister says interested in modified nuclear fuel swap
Iran Foreign Minister Manouchehr Mottaki said Tuesday the Islamic Republic could reconsider a modified version of a nuclear fuel swap plan that it rejected last year. The plan would ship most of its nuclear fuel abroad.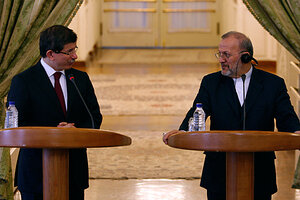 Vahid Salemi/AP
Iran is seeking to rekindle interest in a modified nuclear fuel deal to create "mutual trust" over its atomic program, nearly seven months after the UN-backed plan was first put to Tehran.
Iran initially said it accepted the dea. But it then rejected it, when Tehran realized its purpose was to ensure that Iran no longer had enough enriched uranium at home, if enriched to higher levels, to build a bomb. Months later, Iran came up with a counterproposal that would involve shipping less enriched uranium out of the country at any given time.
Top US officials rejected Iran's counter-offer out of hand and are now seeking to marshal diplomatic support for a fourth round of UN Security Council (UNSC) sanctions against the Islamic Republic.
"If the West is serious about a fuel exchange deal, the case can be a multilateral trust-making opportunity for all sides, including Iran," Foreign Minister Manouchehr Mottaki said on Tuesday. "If the principle of exchange of fuel is a consensus, there is the possibility for an exchange of views, of understanding for mutual trust."
---