Baghdad bombings show Al Qaeda in Iraq still intent on sectarian violence
Although Iraqi and US officials say they've severely damaged Al Qaeda in Iraq, a series of new Baghdad bombings reveals the organization may be weaker but is still trying to spark tension between Sunnis and Shiites.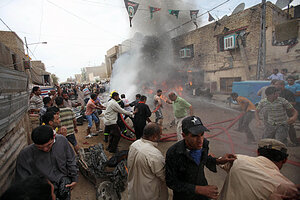 Karim Kadim/AP
Coordinated attacks near the main office of Shiite cleric Moqtada al-Sadr and a series of explosions at Shiite mosques during Friday prayers killed more than 50 people and wounded almost 200. These were the worst attacks in Iraq since elections in early March.
Iraqi officials attributed these bombings and several others against law enforcement officials in Ramadi to Al Qaeda in Iraq (AQI) striking back after a series of arrests of AQI members and the killings of top leaders. While Iraqi and US officials say dismantling AQI's network has severely weakened the organization, the bombings appear to be a sign that the group is still intent on and capable of sectarian attacks.
---