Obama's Cairo speech yields fruit in Damascus, a year later
President Obama's Cairo speech in June 2009 opened the door for a flurry of grass-roots diplomacy that supporters hope will lead to broader rapprochement.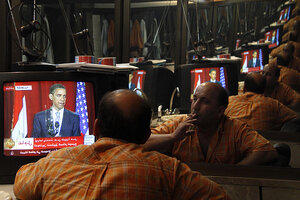 Ola RifaiAP/File
Public diplomacy is taking off in Syria, where an initial thaw in relations with the US has opened up new opportunities – despite frustration that Washington has yet to send a new ambassador more than a year after promising to renew diplomatic ties.
This week, a new US non-profit organization – Open Hands Initiative – started its first project in Syria. Disabled children from the US will meet with their Syrian counterparts in Damascus, producing a comic book featuring a disabled hero, while an American music producer will work with Syrian artists to record material to promote abroad.
Open Hands is not alone. Last week, Houston-based American Voices ran its YES (Youth Excellence on Stage) Academy ran a workshop for Syrian musicians, culminating in two concerts.
Obama's Cairo speech opened a window in Damascus
The flurry of activity is new. Organizations found it almost impossible to work in Syria under the previous US administration.
But circumstances have changed since President Obama came to power and made an historic speech to the Muslim world a year ago.
---