Israel-Lebanon border clash has Israel complaining of Hezbollah's influence
The Israel-Lebanon border clash that left an Israeli officer and three Lebanese dead this week has spurred Israeli complaints about ties between the Lebanese Army and the militant Shiite group Hezbollah. The Obama administration may face a congressional challenge to a US military aid program for Lebanon.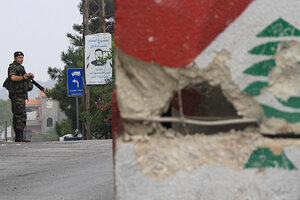 Mohammed Zaatari/AP
A deadly clash this week along the Lebanon-Israel border has thrown into doubt future US government funding for the Lebanese Army, a cornerstone of recent US efforts to stabilize the country.
Since Tuesday's border clash that left an Israeli officer, two Lebanese soldiers, and a Lebanese journalist dead, Israel has complained of an alleged "Hezbollah-ization" of the Lebanese Army, a reference to the militant Iran-backed Shiite group, and appears set to lobby Congress to curtail Washington's military assistance program to Lebanon.
"Israel tends to view the distinction between the Lebanese Army and Hezbollah as increasingly cloudy," said Michael Oren, Israel's ambassador to the US, in a conference call with two Jewish lobby groups on Wednesday. "The Lebanese Army shares all its intelligence with Hezbollah. There are high-ranking officers in the Lebanese Army who are closely associated with Hezbollah."
---
Follow Stories Like This
Get the Monitor stories you care about delivered to your inbox.