Iran announces new delays at Bushehr nuclear plant – but denies Stuxnet link
Iran announced months of delays for its Bushehr nuclear plant today, as the US hit Iran with more sanctions over its human rights record.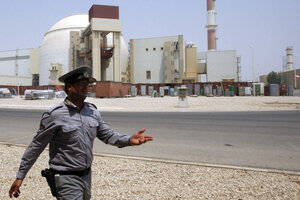 Vahid Salemi/AP
Iran said its troubled Bushehr nuclear power plant won't go on line for at least another three months, the latest delay for a plant that is the centerpiece of Iran's nuclear power program.
The announcement in August of the Russian-built Bushehr's imminent commissioning created alarm in some quarters, with some analysts saying the early stages of the plant's operation could produce fuel suitable for conversion into a nuclear weapon.
Since, there's been growing evidence of clandestine efforts to disrupt Iran's nuclear progress. In particular, some Internet security analysts say the Stuxnet virus, a sophisticated program apparently designed to disrupt the sort of Siemens software used to control processes at the plant, appeared to have been targeting Iran's nuclear sites.
Expanded US sanctions
---