Iraq's divided leaders meet for the first time since March elections
Iraq's leaders met to try to break a political deadlock that has left Iraqis vulnerable to escalating violence, including two car bombings today.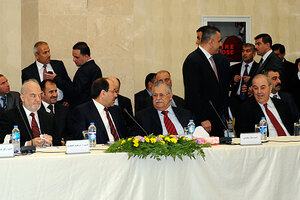 Iraqi Government/AP
Iraq's divided political leaders met Monday for the first time since March elections in a bid to break an eight-month deadlock that has left Iraqis with no new government and vulnerable to escalating violence.
Bombings on Monday in Iraq's normally calm holy cities of Najaf and Karbala killed at least 22 people and wounded dozens more. The attacks followed the storming of a church in Baghdad eight days ago in which more than 50 Iraqi Christians were killed during Sunday mass and a string of coordinated bombings in Shiite areas across the city two nights later killed at least 70.
The meeting in the Kurdish regional capital of Erbil between Prime Minister Nouri al-Maliki, his main rival, former prime minister Iyad Allawi, and the leaders of the major Shiite and Kurdish blocs was meant to jump-start serious negotiations over forming a coalition government. Political leaders have come under increasing pressure to meet since an Iraqi court ordered parliament to convene. The parliament is due to meet Thursday for what is expected to be a brief session before negotiations resume on the sidelines.
"This is just one meeting – the first of many to come in which many issues must be resolved in order to reach an agreement," Kurdish President Massoud Barzani, who hosted the talks, told reporters after the nationally televised meeting. "I see many details – too many to be resolved in two or three days."
---
Follow Stories Like This
Get the Monitor stories you care about delivered to your inbox.