Iraqi official: leaders have framework to form new government
Under the agreement hammered out Wednesday evening, Iraq's new government would look a lot like the old government, a senior official told the Monitor. Parliament meets Thursday.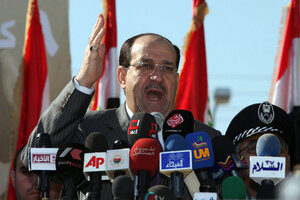 Karim Kadim/AP/File
Iraqi political leaders have reached the framework of an agreement for a new government that would end the country's eight month-long political deadlock, a senior Iraqi official said late on Wednesday.
"It looks a lot like the old government," the official, speaking on condition of anonymity, told the Monitor.
Under the agreement hammered out Wednesday evening, Prime Minister Nouri al-Maliki would retain his post, Kurdish leader Jalal Talabani would remain president, and the position of speaker would go to a Sunni. Osama al-Nujaifi, a member of the Iraqiya bloc headed by former prime minister Ayad Allawi was a leading candidate for the position.
Mr. Allawi himself, who has insisted that he head the new government, was expected to decide on Thursday whether to accept a position as head of a new strategic security council that would play a key role in decisionmaking.
The Iraqi parliament is scheduled to meet Thursday afternoon after being called back by a court order. Under the Constitution, it must elect a speaker in its first session. The speaker's position was part of a package being hammered out in talks between the political blocs on the elements of a coalition government.
---