Qaddafi regime's canopy of lies obscures the glints of truth
The constant manipulation of information by Muammar Qaddafi's regime makes convincing the outside world of any fact that helps its cause an uphill battle.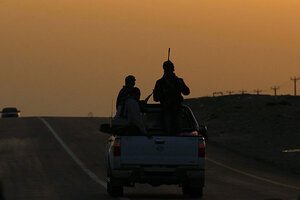 Andrew Winning/Reuters
For days, Libyan officials have declared that US-led airstrikes are leaving a trail of death and destruction, with more than 100 dead during a week of attacks that have given military advantage to anti-regime rebels.
Libyan state TV Sunday decried a "bombardment of the population."
But little evidence of casualties – either civilian or military – has been presented for independent verification.
And Sunday night in Sirte, Col. Muammar Qaddafi's hometown and the last bastion that stands between the advancing rebels and the capital, Tripoli, foreign journalists were told that government forces had recaptured the pivotal city of Ajdabiya – an easily provable lie.
Such has been the mishandling of the truth by Mr. Qaddafi's regime that there were few foreign journalists who believed what they saw on Friday, when taken to a rural site where an American missile struck a garden and damaged a house.
The episode illustrates the uphill battle Qaddafi loyalists face as they seek to convince the outside world of any fact that helps their cause.
Indeed, it now seems that an errant US missile did in fact hit the house. But it didn't appear that way Friday.
Several elements at the scene, 20 miles east of Tripoli, appeared not to add up – and not just because people there gave differing accounts of who was hurt, if anyone at all.
The Monitor noted the apparent incongruities by suggesting the site "may have … been made to look more convincing with what appeared to be gunfire sprayed against some outside walls and white plaster thrown onto interior floors."
---