Saleh, Yemen opposition agree on plan to transfer power
But protesters are angry about the deal, which was brokered by Gulf countries and would give President Saleh and his relatives immunity despite protest violence that has killed at least 120.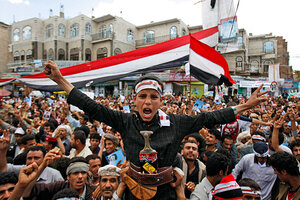 Hani Mohammed/AP
Yemen's coalition of opposition parties reversed course late last night and accepted an initiative that would see longtime President Ali Abdullah Saleh step down in 30 days, potentially breaking three months of political deadlock.
The deal, which was presented last week by the Gulf Cooperation Council (GCC), meets opposition leaders' demand for Mr. Saleh's departure but also calls for immunity for Saleh, his relatives, and his aides. It gives the opposition a role in an interim national unity government but also requires them to end their involvement in the protests that have posed an unprecedented challenge to Saleh's 32-year rule in Yemen.
Representatives from the ruling party and the opposition are expected to sign the initiative within days, opening the way for a measure of stability to return to the fragile Arab nation. But throughout the country, protesters are united against the initiative and claim that the opposition umbrella group, the Joint Meeting Parties (JMP), does not represent their interests.
Sign up for our daily World Editor's Picks newsletter. The best stories, in your inbox.
Indeed, the sudden acceptance of the proposal highlights mounting tensions between the JMP and the youth movement credited with starting the antiregime movement. For months, student coalitions have claimed that their voices are being drowned out by the official opposition parties. If the Gulf deal proceeds, their role could be significantly diminished.
Primary among protesters' grievances with the GCC plan is the offer of immunity to Saleh and his family, who control many of the country's top intelligence and security posts. At least 120 antigovernment demonstrators have been killed since protests began in January, according to Amnesty International. Clashes between demonstrators and security forces broke out yesterday in the cities of Taiz, Ibb, and al-Baida. Three people were reported killed.
---