Will the Muslim Brotherhood soon control Egypt's parliament?
The Muslim Brotherhood's new plans to contest 50 percent of Egypt's parliamentary seats in upcoming elections are sparking concern that it will impose its Islamist ideas on the population.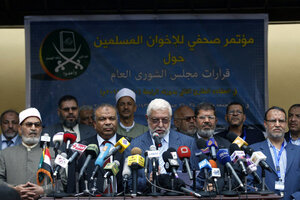 Khalil Hamra/AP
The Muslim Brotherhood's new political party will field candidates in about half the parliamentary seats in Egypt's first post-revolution elections, leaders announced Saturday.
After years of being banned from politics and persecuted by former President Hosni Mubarak, the official launch of the group's Freedom and Justice Party was a historic moment.
Leaders portrayed the party as inclusive, saying Christians and women can join. In accordance with Egyptian law, the party is officially civil, not religious, and is independent from the group. Leaders also repeated an earlier pledge not to run a candidate in presidential elections.
But the plans to contest 50 percent of parliamentary seats will be worrying to the secular and liberal-leaning young activists who were a strong force in the revolution. They fear that the Brotherhood, Egypt's best-organized group, will dominate the parliament and impose its Islamist ideas on the population. Leaders had earlier said the group would only contest about 30 percent of the seats.
The decision to go for a larger bloc in parliament is likely partially a result of pressure from rank-and-file members, who are not content to settle for a small percentage of the pie when the race is wide open, says independent analyst Ibrahim El Houdaiby, a former Brotherhood member.
The disbanding of Mubarak's National Democratic Party has left the Brotherhood with an advantage over the rest of the opposition, which lacks the grassroots organization and discipline of the Brotherhood.
But Mr. Houdaiby also traces the decision to the increasing divide between the Brotherhood and the liberal secular groups since a constitutional referendum in February, when the two campaigned on opposite sides. As the gap widens between the two sides, the Brotherhood may feel it needs to win more seats in order to influence parliament because it will not be able to create coalitions with such groups, says Houdaiby. "If you think you're on your own, on the other side of the game, then you need to have more seats," he says.
---