Egyptian report details brutality against protesters before Mubarak's fall
More than 800 protesters were killed and thousands wounded as the Mubarak regime attempted to put down Egypt's uprising, according to a report from the new Egyptian government.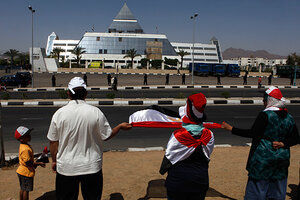 Amr Nabil/AP
At least 846 Egyptian protesters were killed during the 18-day uprising that swept former President Hosni Mubarak from power, a government-appointed fact-finding commission said Tuesday.
Egyptian police shot and killed many of those who were slain in the crackdown meant to quell Egypt's unrest, according to the commission. It also said Mr. Mubarak should be held accountable for the casualties.
The report is a key step toward holding accountable those responsible for the brutal treatment of demonstrators, say human rights activists. They say that it's a sign, along with Egypt's move to join the International Criminal Court (ICC), the country is moving toward implementing the rule of law and away from the impunity that characterized Mubarak's era.
"It is a step forward in the right direction, and this is totally different than what we saw in the past," says Bahey El Din Hassan, director of the Cairo Institute for Human Rights Studies. "But the political will still has a role to play" in holding officials accountable. "I am afraid that justice is still not blind in Egypt."
The commission's findings more than double the number of dead the government had previously acknowledged, and is much nearer to the numbers that rights activists tallied. The report also says that 26 police officers and one prisoner were killed in the violence, and that more than 6,000 people were wounded.
---