Yemen thrust into deeper uncertainty after Gulf deal falls through
A Gulf-brokered deal to usher Saleh out of power has failed. Yemeni protesters have settled in for the long haul with tents wired for Internet access and satellite TV.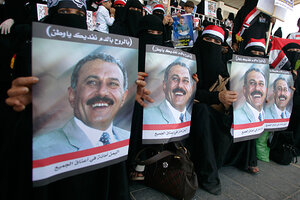 Khaled Abdullah/Reuters
When demonstrations began in February aimed at toppling long-ruling President Ali Abdullah Saleh, they were of a humble size, filling only the area immediately outside the entrance to Sanaa University, an area now known as Change Square.
Now as the movement enters its fourth month, the sit-in has swollen to a veritable tent city that stretches nearly two miles, shutting off traffic in a large portion of the nation's capital and resembling a shantytown. Many tents there have a permanent look, wired for electricity, satellite television and, in many cases, wireless Internet service.
Still, the demonstrators seem no closer to achieving their goal. A supposed agreement that would have had Saleh resign, brokered by the Gulf Cooperation Council, appears to have fallen through, with neither the demonstrators nor Saleh willing to support it.
"How can anything headed by the GCC lead to democracy," commented Abdulrahman Abdullah al Kamadi, a demonstrator who has been camped out in the square for over two months.
"The emirates and kingdoms of the GCC are the enemy of any revolution. They cannot even admit what is going on here. This is not a political crisis: this is a revolution."
'We have no fear of violence'
On Wednesday, gunfire broke out here as army troops loyal to Saleh moved against the demonstrators in what appeared to be an effort to push them back from the huge swath of territory they've claimed over the weeks. More than a dozen protesters were killed in the four-hour firefight, but the pro-Saleh forces gained no ground, and protesters were putting up new structures Thursday.
---