Sadr followers send message to US: Don't try to stay
US troops are scheduled to leave Iraq by Dec. 31, but Prime MInister Maliki said he is considering seeking an agreement that would allow them to stay longer.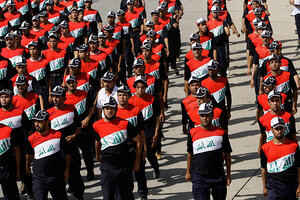 Hadi Mizban/AP
Tens of thousands of followers of anti-American cleric Muqtada al Sadr staged a military-style parade Thursday in Baghdad to demand that US troops leave the country as scheduled by Dec. 31, a show of force intended to intimidate Iraqi officials who favor asking that some American troops stay on.
Dressed in T-shirts emblazoned with Iraqi flags, the men marched in groups of 100, swinging their arms in a military fashion as they passed a reviewing stand filled with Shiite clerics in the impoverished Shiite Sadr City section of Baghdad, named after Sadr's father.
"No, no, America. No, no, Israel," they chanted. To set the tempo, they punctuated their march by calling out "Mahdi," a reference to the disbanded Mahdi Army militia, in what sounded like a warning that it could be reconstituted if US forces remain after year's end.
Sadr is the first major political leader to stage a public demonstration in what's expected to be a heated national debate during the next two months over the American troop presence. Prime Minister Nouri al Maliki said earlier this month that he'd decide by the end of July whether to seek a new agreement that would let US troops stay longer.
In a speech Tuesday in Washington, Defense Secretary Robert Gates said he favored extending the American presence, noting that the Iraqi military will need help with logistics, intelligence and defending its airspace and that a continued US military presence will send a "powerful signal that we're not leaving, that we will continue to play a part."
---