Even in Egypt, Arab Spring not yet secured
Egypt may have swept aside Mubarak in the Arab Spring, but the real fight lies ahead.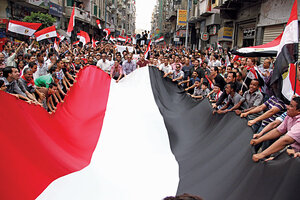 Ravy Shaker/Xinhua/Newscom
The uprising that swept Egyptian President Hosni Mubarak from power in February was national in scope. But Tahrir Square in Cairo was its beating heart.
Devout Muslims, committed socialists, and hordes of formerly apathetic young people made common cause there against Mr. Mubarak and his security forces, insisting they'd found a unity that would change Egypt forever.
Ramy Essam was one of them. When the uprising began, the aspiring singer was drawn to Tahrir from his hometown of Mansoura, about 70 miles northeast of Cairo. When government thugs tried to sweep protesters from the square, Mr. Essam was in the thick of the scrum, fighting back at the barricades.
When the violence subsided, the movie-star-handsome 23-year-old strummed his guitar. A call-and-response song he wrote incorporating anti-Mubarak chants became a Tahrir Square anthem.
"I'd always ignored politics – I thought it was all rigged," he told me on Feb. 12, the evening after he and his comrades pushed Mubarak from power. "But this was a chance to do something for my country, to help change things. I couldn't stay away."
But even as he spoke of unity and hope, of his conviction that democracy was assured and his desire to get back to his music career, the complicated business of creating post-Mubarak Egypt was just getting under way.
---