With military draft reform, Netanyahu learns he can't please everyone
Prime Minister Netanyahu is accused of catering to ultra-Orthodox with his stance on draft exemptions, but the religious group isn't happy with him, either.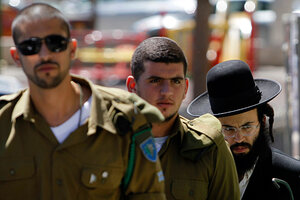 Baz Ratner/Reuters
Israeli Prime Minister Benjamin Netanyahu has adeptly navigated Israel's infamously volatile political landscape for more than three years – until this month. Now he is trapped between two diametrically opposed political forces – the ultra-Orthodox and the secular centrist and left parties – with no clear way of satisfying both as he heads into possible elections.
When the centrist Kadima party and its leader, Shaul Mofaz, bolted a 10-week-old "unity" coalition yesterday, accusing the prime minister of moving too slowly on the politically charged issue of ending military draft exemptions for ultra-Orthodox Jews, the reputations of both politicians were tarnished.
Commentators pointed to the swift divorce as evidence that the leaders formed their match out of political convenience, rather than a joint desire to make controversial reforms, as they initially argued.
In mid-May, Mr. Netanyahu reversed a plan to hold a snap election in September in favor of forming a broad coalition with Mr. Mofaz to tackle draft reform, election reform, and the peace process. The leaders touted it as a "historic" chance to change the draft system, which for decades has allowed thousands of ultra-Orthodox young adults to avoid the mandatory two or three-year military service and subsequent reserve duty by remaining in state-funded religious seminaries.
---