Can Canada take gold in pairs figure skating? Olympics schedule Monday
The Vancouver 2010 Olympics schedule today includes medal events in men's and ladies' cross-country skiing, team ski jumping, and ice dance.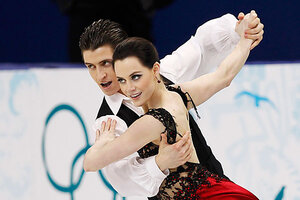 Lucy Nicholson/Reutera
(**The headline on this article should more accurately say: "Can Canada take gold in ice dance?")
Olympic events schedule: Monday Feb. 22, 2010
Coverage on USA Network begins at (9 am) 12 pm EST
NBC-TV begins at (2 pm) 5 pm EST
MSNBC-TV will not have coverage today.
Click on the name of the sport for information about the event and who to watch:
--
9:00 am (12:00 pm EST) CURLING - Men
France vs. Norway
Canada vs. USA
Germany vs. China
Switzerland vs. Sweden
10:00 am (1:00 pm EST) SKI JUMPING - Team 1st round
10:45 am (1:45 pm EST) CROSS-COUNTRY SKIING - Ladies' team sprint free semifinals
11:00 pm (2:00 pm EST) SKI JUMPING - Team final round, medal event
11:35 am (2:35 pm EST) CROSS-COUNTRY SKIING - Men's team sprint free semifinals
12:00 pm (3:00 pm EST) HOCKEY - Women's, USA vs. Sweden
1:00 pm (4:00 pm EST) CROSS-COUNTRY SKIING - Ladies' team sprint free final, medal event
---