Olympic medal table: How is China even close to the US?
The Olympic medal table shows that there are many different Olympic stories – and many different paths to winning a lot of medals. The US and China go about it in opposite ways.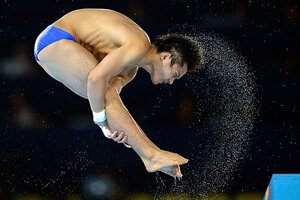 Mark J. Terrill/AP
It is the invisible Olympic rivalry.
London 2012 has left no doubt that, when it comes to the race to top the medal table, there are two nations and then everyone else. But where, exactly, is China winning all those medals?
How many table-tennis medals can you win in a single Olympics, after all?
And that is the thing about the Summer Olympics: No matter where you look, there is always another Olympics going on somewhere else.
How many people, for example, are aware that 48 medals have been handed out in sprint canoeing and kayaking during the past six days? Or that the British have won five medals in sailing with Ben Ainslie winning his fourth gold in a row? Or that Colombia has emerged as a BMX powerhouse?
The Olympic Games are plural, and what they are is always determined by where you look.
It is easy for Americans, in particular, to be myopic. No other nation gets such a large share of its medals from so few sports. As of Saturday afternoon, 59 percent of America's 95 medals came from swimming (31) and track and field (26). Of the nations that have won at least 30 medals, no other has won more than half of their medals in two sports.
China, in particular, spreads out its medal totals. Its top two sports – swimming (10) and diving (9) – account for only 23 percent of its 82 overall medals.
That means China is winning its medals in places where Americans aren't looking. America has won seven medals or more in only its two big sports. China has done it in six: swimming, diving, badminton, gymnastics, shooting, and weightlifting.
This the danger of the Olympics. They are too much. No one network can chronicle all that they are. Frankly, NBC is just doing what every other national broadcasting network does. The difference is that America has so many medalists, that NBC can make its entire three-hour prime show time a USA-only zone.
---