'Dream Team' 2.0 goes for gold: Is Spain really a threat?
USA basketball's Dream Team redux has rolled into the finals of the London Olympics Sunday, but there it faces Spain, the one team that could give it problems.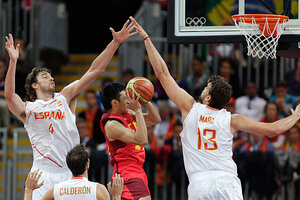 Charles Krupa/AP
So after perhaps the longest throat-clearing in Olympic history, we come back to the very first question we asked about men's basketball: Is Spain's size enough to cope with Team USA's, well, everything else?
We ask this because we have run out of other questions. With the exception of a 2.0-Richter scare against Lithuania, the US has beaten all comers so thoroughly that the final horn seemed to double as a turkey timer. Bing! They're cooked.
Argentina is the only team in the post-1992 "Dream Team" era to beat the US twice. In a five day span last week, the US beat Argentina twice by an average margin of 27.5 points, the most recent win coming in the semifinal Friday.
The Spain question really is the only one that has not been answered yet, because the US has not played Spain yet, and no one else really plays like Spain.
Spain tries to be David and Goliath at the same time, with two or three unshaven Philistines (the brothers Paul and Marc Gasol, sometimes with the more cleanly groomed Serge Ibaka) beating their chests in the paint, while tiny Davids sling shot from behind the 3-point arc to slay opponents.
With America's top big man, Dwight Howard, out of the Olympics with an injury, size would appear to be a weakness that Spain could exploit – if it can survive.
And that would seem to be the issue. Team USA has won not by playing exceptionally good defense (though it has been good), nor by executing a particularly ingenious game plan. It has won because, at some point in its games – and for seemingly inscrutable reasons – it has simply ignited in a Wagnerian conflagration of 3-pointers.
---