Olympic medal count: USA sets historic gold medal mark
The London 2012 Olympic medal count finished with the USA on top with 46 gold medals – the most it has won in a non-boycotted Olympics since 1904. China fell off its Beijing pace.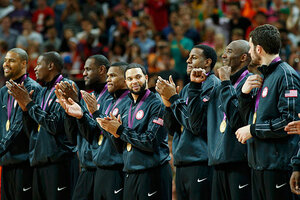 Sergio Perez/REUTERS
Well, the Olympics are now over and it is officially America über alles once again.
London 2012 turned out to be a return to the Games' pre-Beijing normal, with the USA comfortably atop the medal table. It was always a bit of a question whether China would be able to repeat its gold-medal-table-topping performance from Beijing. The fact that it did not raises a question heading into Rio 2016: Did China underperform in London or did it take its foot off the gas pedal after Beijing and is now returning to a pre-2008 "normal"?
Check back with us in four years to find out the answer.
Until then, there are plenty of Summer Olympics medal tidbits to tide us over.
• With two more gold medals Sunday (men's basketball and Jacob Varner in men's 96 kilogram freestyle wrestling), the USA finished with 46 gold medals, the most for the country in a non-boycotted Games since 1904, when the Olympics were held in St. Louis and many countries did not come. The USA won 78 gold medals in 1904 and 83 in 1984. Previously, the non-boycott post-1904 high was 45, set in 1924 and 1968.
• The 104 total medals is actually six fewer than the US won in Beijing (though the 46 gold are 10 more). The 104 total medals is the sixth-best ever for the US, behind 1904 (239), 1984 (173), 2008 (110), 1992 (108), and 1968 (107).
• China's medal count declined by 13 golds (51 to 38) and 13 total medals (100 to 87) from Beijing.
---