Syria pipeline explodes as Arab League mission limps on
(Read article summary)
The government blamed a Syria pipeline explosion today on 'terrorists.' Meanwhile, concerns mount that the Arab League mission to Syria won't stop the fighting.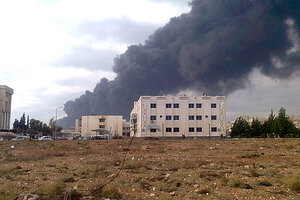 Reuters
• A daily summary of global reports on security issues.
The Syrian government blamed terrorists for the explosion of a gas pipeline in central Syria on Tuesday.
As the country has spiraled deeper into war between his regime and his domestic opponents, President Bashar al-Assad has accused terrorist groups and foreign agitators of causing the violence. Opposition groups say that Mr. Assad is playing to people's fears and seeking to use incidents like this explosion as a ploy to strengthen his base of support.
The explosion occurred in the town of Rastan in Homs province, one of the most violent in Syria. Since the uprising began in mid-March, there have been at least five pipeline explosions, reports Xinhua. With the situation in Syria increasingly resembling a civil war, The Daily Telegraph reports that it remains unclear who was behind the pipeline attacks.
News of the pipeline incident came as the Arab League monitoring team in Syria faces mounting allegations that it has done little to improve the situation since its arrival last week. On Monday the head of the Arab League admitted that Syrian forces are still killing protesters.
---