Israel threatens second Gaza war after launching air strikes
(Read article summary)
Israel, which launched retaliatory air strikes against Palestinian rocket attacks today, also threatened a second Gaza war if Palestinian militants didn't stop firing rockets.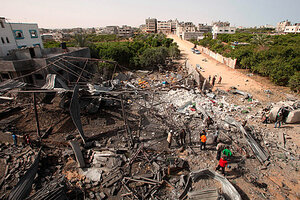 Suhaib Salem/Reuters
• A daily summary of global reports on security issues.
In response to a rocket attack, Israel launched multiple air strikes on Gaza early Friday and threatened a second Gaza war if Palestinian militants do not cease their rocket attacks. The air strikes targeted what Israel said were weapons manufacturing and storage sites. Palestinians said the sites struck included workshops and a factory.
No one was killed in the air strikes or the rocket attack from Gaza on Thursday, though three children were wounded in the Israeli strike.
The air strikes come as tension has increased between Gaza and Israel recently after a period of relative calm following Israel's three-week winter offensive in Gaza last year.

Agence France-Presse reports that Israel's deputy prime minister, Silvan Shalom, threatened to use stronger force in Gaza if the rocket attacks do not stop.
"If this rocket fire against Israel does not stop, it seems we will have to raise the level of our activity and step up our actions against Hamas," Shalom told public radio.

"We won't allow frightened children to again be raised in bomb shelters and so, in the end, it will force us to launch another military operation," said the deputy premier.

"I hope we can avoid it, but it is one of the options we have, and if we don't have a choice, we will use it in the near future," he said.
Hamas leader in Gaza Ismail Haniya responded by blaming Israel for escalating tension and calling on the international community to end Israel's "aggression."
A BBC video reports that four of the air strikes hit near the area where the two Israeli soldiers were killed last week. It called the strikes the heaviest attacks since the war in Gaza last year, when more than 1,300 Palestinians and 13 Israelis died.
---