Bangkok grenade attack wounds scores in Thai protests
(Read article summary)
Rocket-propelled grenades injured more than 80 government supporters at Thai protests Thursday evening. The antigovernment Red Shirts denied responsibility for the attack, though the M-79 grenades were reportedly fired from near their camp.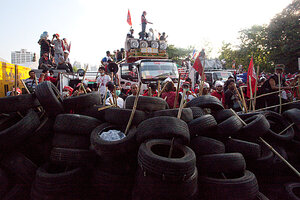 David Longstreath/AP
• A daily summary of global reports on security issues.
Several explosions in Thailand's capital, reportedly caused by rocket-propelled grenades, erupted amid crowds of government supporters at a rally late Thursday evening. The attacks killed at least one person and wounded 86, and left the Thai capital locked in panic.
The explosions came as thousands of antigovernment protesters faced off against security forces in Bangkok in the latest in two months of tense showdowns.
The incident brought messages of concern from the United Nations, while the governments of the US, Great Britain, and Australia warned citizens against any but essential travel to Thailand. By Friday morning, Bangkok's otherwise vibrant financial district was reported to be shuttered, with streets largely deserted.
It was not immediately clear who was responsible for Thursday's attacks, which the government blamed on unnamed "terrorists" – stopping short of naming the so-called Red Shirt antigovernment protesters whose demonstrations have intermittently paralyzed the Thai capital for six weeks now. Red Shirt demonstrators quickly denied responsibility.
The Associated Press reports that the antigovernment Red Shirts believe the current government should not be allowed to continue to govern:
---