Fresh fighting breaks out in Yemen
(Read article summary)
The dynamic in Yemen's long-simmering uprising has significantly changed, with factions of the armed forces battling each other – threatening to turn the largely peaceful uprising into civil war.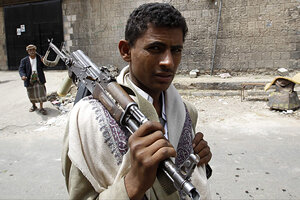 Ahmed Jadallah/Reuters
Fresh fighting broke out in Yemen's capital today, heightening concerns that increasing division among armed tribal factions and splits in Yemen's armed forces may lead the Arab world's poorest nation into full-blown civil war.
Today the elite Republican Guard, led by President Ali Abdullah Saleh's son, engaged in fierce clashes with soldiers loyal to dissident Gen. Ali Mohsen al-Ahmar, who once served as the "iron fist" of Mr. Saleh's regime but is now one of his most powerful rivals.
The fighting has broken a three-day period of calm that provided some hope that Saleh would return to a peace plan designed by other Gulf nations, reports Raidió Teilifís Éireann. Diplomats had urged Saleh to stay in Saudi Arabia where he spent three months recuperating after a rocket attack, but he returned on Sept. 23, triggering much unrest.
The Christian Science Monitor reported yesterday that the entrance of Mohsen's troops into the fray since Saleh's return has significantly changed the dynamic of fighting in Sanaa, and could transform what has until now been a largely peace uprising into true civil war.
---