Lincoln's close call with electoral defeat
(Read article summary)
'Decided on the Battlefield' by David Alan Johnson tells how Abraham Lincoln nearly lost it all.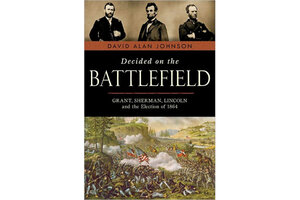 An incompetent hick, a drunken butcher, and a red-haired lunatic.
If you listened to their enemies, the three men with these descriptions – President Abraham Lincoln and Generals Ulysses Grant and William Tecumseh Sherman, respectively – were the biggest threats to America during the waning days of the Civil War in 1864.
Who were these acid-tongued critics? Not the people you might think. They were politicians and ordinary folks in the North who saw Lincoln as a bumbling failure, Grant as a bloodthirsty military killing machine, and Sherman as a nutty man on a fool's mission.
It was a presidential election year, and these angry, frustrated and disappointed Northerners wanted Lincoln out of office.
They nearly got their wish.
Lincoln, who'd become one of the most beloved Americans of all time, came close to being beaten at the ballot box after one term, leaving him to languish among our presidential failures. In the darkest days of 1864, he feared he was through, much as LBJ must have felt as he pondered his own wartime chances in the White House 104 years later.
In his new book, historian David Alan Johnson chronicles how the two generals turned things around in Georgia and Virginia. They managed to keep Lincoln in office and move victory into sight.
By his own admission, this author isn't easy to impress, and he finds hardly anyone to praise on either side, not even Lincoln, whom he views as unscrupulous and outmatched. This makes Decided on the Battlefield: Grant, Sherman, Lincoln, and the Election of 1864 as surprising as it is colorful and readable.
---