After Lance Armstrong doping: Time for Nike to just do it – fairly
By taking the initiative to donate funds to anti-doping agencies and research, the company would not only help redeem itself ethically after steadfastly backing Armstrong and other Nike athletes who've doped. It would also boost its brand image – and surely its market share.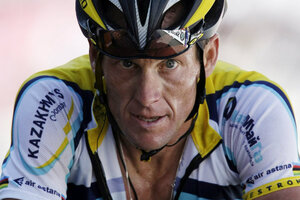 Laurent Rebours/AP/File
Okay. So now that Lance Armstrong has "come clean" (at least partially) to Oprah about his various doping transgressions in winning seven Tour de France titles, it's time for everyone to move on, right?
After all, when it comes to performance enhancing drugs (PEDs) and sport, it seems inevitable that there will always be another scandal right around the corner. Within days of Mr. Armstrong's confessional interview, fresh allegations surfaced that Yankees baseball star Alex Rodriguez (ARod) follows a heavy doping regimen. And golfer Vijay Singh admitted to using a banned substance.
But we shouldn't put the Armstrong affair behind us quite so quickly.
Much like Travis Tygart, CEO of the US Anti-Doping Agency (USADA) and the man who brought down Team Armstrong, I believe that the general public deserves more answers – and accountability – not just from Armstrong but from his endorser, Nike, Inc.
---