Atlanta cheating scandal and Lance Armstrong: How to avoid 'ethical slip'
The Atlanta educators charged with cheating and cyclist Lance Armstrong both fell prey to 'ethical slip' – when little by little, each adjusted his or her own internal compass to point the way of the growing crowd. Self-reflection and friendship can help prevent us from losing our true north.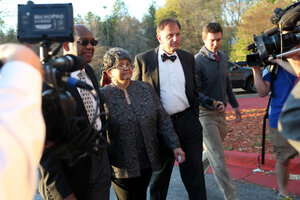 Ben Gray/Atlanta Journal-Constitution/AP
The nation is reeling from news that 35 teachers, principals, and other education leaders in Atlanta have been charged with being part of a cheating ring – altering and fabricating test sheets and inflating test scores. The alleged architect of the ring is celebrated former superintendent of schools, Beverly Hall, who won Superintendent-of-the-Year in 2009, and an invitation to the White House, and has earned more than half a million dollars in reward bonuses over the years. She now faces the possibility of 45 years in prison.
As I read the details of this case, I was reminded of another cheating ring, led by a much-celebrated, larger-than-life winner who fell far from grace as of late: You guessed it, Lance Armstrong.
What do these Atlanta teachers and world-class cyclists have in common?
They both seem to have fallen prey to a culture of what we might call "ethical slip" – little by little, one by one, each adjusted his or her own internal compass to point the way of the growing crowd. (In the case of the Atlanta teachers, it seems their compasses may have been adjusted under threat, in many cases, rather than more subtle kinds of pressure.) What might have felt uncomfortable at first likely became increasingly normalized by the frequency and volume of its occurrence. What might have once been unthinkable likely became mind-numbing routine. And before long, a whole internal culture was created where the unethical act – doping, cheating – becomes a foundational internal logic.
Mr. Armstrong, no longer trusting his own soul, groped for answers in books. He told Oprah in his infamous interview that he "looked up the definition of cheat," and it means "to gain an advantage on a rival or foe." Armstrong explained: "I didn't view it that way. I viewed it as a level playing field."
---