Objection! Americans' opinion of Supreme Court can't keep dropping
For the first time in nearly 30 years, the favorability rating of the US Supreme Court has fallen below 50 percent. Lack of public confidence undermines the legitimacy of the court's rulings. Chief Justice Roberts has yet to project an image of a court that stands above politics.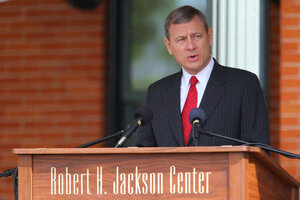 Mark Mulville/AP
Last month, the Pew Research Center reported that for the first time in its nearly 30 years of polling, the favorability rating of the US Supreme Court fell below 50 percent. Only 48 percent of the public has a positive view of the court. Perhaps more disturbing, the current level reflects a steady trend. The court's approval fell below 60 percent in 2010 and has been sliding ever since.
Public confidence in the judiciary provides a critical foundation for a society committed to the rule of law. As America's unelected justices confront controversial questions, the legitimacy of their decisions depends on public support for the institution. The court must rely on other government officials, including elected leaders and law enforcement officers, to implement its rulings. Examples around the world suggest that obedience to judicial decisions may well depend on the level of respect that the courts enjoy.
The drop in court approval occurs at a time when Americans have less respect for other institutions. But the immediate cause of the most recent dip in the high court's rating seems clear. In the wake of the court's invalidation of a key provision of the Voting Rights Act, court approval among African-Americans fell to 44 percent in July from 61 percent in March. The longer term trend, however, suggests a deeper concern among the public than anger over one ruling.
---