Progress report: Getting better globally
(Read article summary)
Up close, there are grave problems in the world -- hunger, repression, discrimination, violence. But when you take the long view, you can see evidence of progress on many fronts.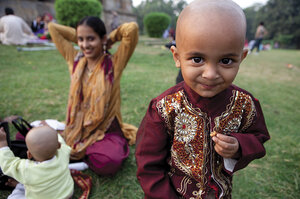 Melanie Stetson Freeman/The Christian Science Monitor
Half full or half empty? You can't go wrong with half empty. It's the serious person's default mode. No one can say "I told you so" when bad things happen. No one can accuse you of being a Pollyanna or glossing over the suffering in the world.
They're right about the suffering. Progress is happening on many provable fronts. But it is not evenly distributed. In Syria, Somalia, Afghanistan, Zimbabwe, North Korea, and too many other places, violence, fear, hunger, and oppression still hold sway. These are real problems that demand intelligent, compassionate, and sometimes aggressive action.
With the reach of global media, we know more about bad things happening in the far corners of the world than ever before. Shining a light on bad things alerts good people to what's going on. That can be the first step in rallying international aid or pressing governments to treat their people better.
But perspective is important. Focus only on present pain and suffering, and the world looks bleak. Take the long view, however, and there is strong evidence that war is actually decreasing, poverty is shrinking, women's rights are improving, and democracy is awakening.
Up close, the pain is real and immediate. Step back, however, and you'll see a world getting better.
---