Please, a discerning presidential debate on foreign policy
When Mitt Romney and President Obama debate foreign policy Monday evening, they need to admit the US faces wholly new challenges that require a national consensus on the core values that can drive US responses.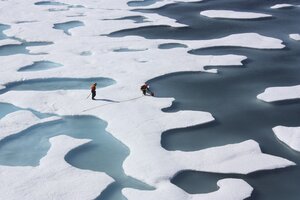 Reuters
In their Monday night debate focused on foreign affairs, Barack Obama and Mitt Romney probably won't be asked the question posed 20 years ago by President George H.W. Bush after the end of the cold war:
What is the new world order?
Yet that question has dogged the three presidents since 1992 once they became America's top diplomat and commander in chief.
That's because the often-simple certitudes of past conflicts between nation-states have been overtaken by what Defense Secretary Leon Panetta calls a "blizzard" of security challenges – from mass slaughter in Europe or Africa to terrorist attacks on US soil to covert cyberattacks from abroad.
Even Katrina-like hurricanes, Mexican drug cartels, and Somalian pirates are now a prime focus of the Pentagon. So, too, is the possibility of a foreign ship loaded with weapons sinking in the unfrozen Arctic waters off Alaska or China's threat to cut off exports of a vital industrial mineral.
---