Leadership: At Cheezburger Network, users take the lead
Or, how grammatically challenged cats pull in a seven-figure income.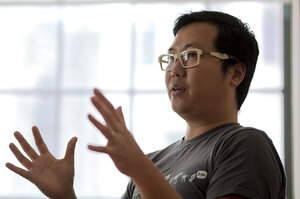 Taylor Weidman/The Christian Science Monitor
Who would have thought that grammatically deficient cats could be big business?
The Internet has long trafficked in photos of kooky pets, but few have capitalized on them as successfully as the Cheezburger Network. The company started with a simple gag: a photo of a goofy gray cat, mouth agape, with the superimposed caption, "I can has cheezburger?"
The joke exploded. Teens, housewives, and grandparents now upload their own cat photos, add intentionally misspelled captions, and share their creations millions of times over. The Cheezburger Network has grown to include more than 50 websites, featuring everything from examples of computer auto-correction gone wrong to photos of real signs written in comically poor English. This mix of charm and sarcasm, with a touch of schadenfreude, pulls in 18.7 million people a month.
But the company doesn't hire writers, photographers, or comedians. All the images and jokes – all the reasons for visiting the Cheezburger Network – come from the audience. In this very Internet-age dynamic, leadership, according to Cheezburger CEO Ben Huh, comes from setting the tone and then getting out of the way.
"For us, the trend has been turning more and more of the company over to the users," says Mr. Huh. "I think what we're going to see is more companies trusting the user. And that is something that I find very much in parallel to being a leader in my company."
The network runs somewhat like an online newspaper. As new images roll in, Huh's editors select the best and publish them in the appropriate sections. These regular updates run alongside ads, which bring in much of Cheezburger's seven-figure annual revenue.
That money pays for Huh's 87-person team of editors and programmers but not the people who actually create the content. Without frequent, quality contributions from the community, the company would quickly evaporate.
---