Wanna Z10 phone? It might just save BlackBerry.
BlackBerry will open pre-orders for its new Z10 smart phone today.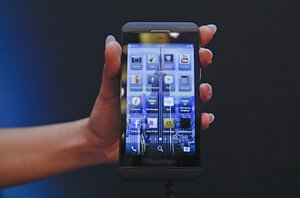 Reuters
Today, BlackBerry – the company formerly known as RIM – will begin taking pre-orders for its Z10 smart phone.
The stakes are extremely high. In recent years, BlackBerry has watched as its competitors, including Apple and Samsung, take bigger and bigger bites of its once-substantial smart-phone market share. Meanwhile, layoffs have been rampant, corporate restructuring has been a regular occurrence, and products that should have helped bolster BlackBerry, such as the PlayBook, have turned instead to be incredibly costly flops.
So yes, there's a lot riding on the Z10, which will actually hit shelves on March 22. The BlackBerry-10-equipped device is powerful and sleek and while it retains a lot of the business-first amenities of its predecessors – lots of security, dynamic email, and messaging options – it's also a phone that is clearly targeted at a wider array of users. Indeed, early hands-on reviews have stressed the accessibility of the device.
---