Chicago teachers strike: Vacations for students, for good or ill
Second day of Chicago teachers strike leaves schools empty and parents struggling to find childcare options for kids who see it as another vacation.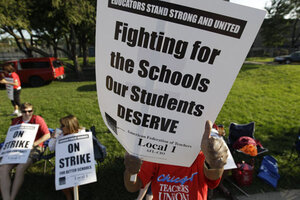 M. Spencer Green/AP Photo
Makayla Hudson, a Chicago fourth grader, bubbled with enthusiasm Monday over her half day at an alternative program to shelter children during the public school teachers strike.
"It was good!" said Makayla, who presented her mother with a crayon picture of a school with a smiling sun, wearing eyeglasses, beaming down from a blue sky.
But Makayla's mother, Latrice Hudson, worried about how long the strike that began Monday could drag on. As she watched her children play in a West Side park outside of Skinner West Elementary School, Ms. Hudson confessed to mixed feelings about the action that involves some 29,000 teachers and support staff in the nation's third-largest school system.
RELATED: "5 top childcare options - cost and value, from daycare to nanny"
---