Raised with rabbis: One family's journey to share their faith
(Read article summary)
At Modern Parenthood we've been interested in how parents share their faith, or lack thereof, with their children. Our guest blogger shares how her family's relationship with religion has evolved.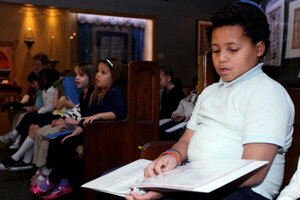 Cory Young/The Tulsa World
Our temple cantor strummed a few chords, and before she could open her mouth, my 4-year-old son Simon did. "Bim bam," he sang out.
The cantor smiled, touched rather than upset that my son for a moment had become song leader as we started walking into the sanctuary for the recent Tot Shabbat service. She then took over. "Shabbat shalom," she sang, and Simon along with the cantor's 6-year-old daughter, shouted, "Hey!" and clapped in unison.
My son treats our temple like a second home. He hugs the rabbis and the cantor. He exchanges high fives with other parents and children. He seems as comfortable in the children's service as he is in the adult services. Seeing my son embrace his faith so early in life is beautiful and at times, astonishing. Both my husband and I grew up largely disconnected from our faith. We didn't set out to make Judaism such an integral part of our son's early childhood. It just happened.
By the time Pavlik and I married, both of us had become closer to Judaism than we were as children. I celebrated my adult bat mitzvah at age 41 in 2006 – months before my wedding and two years before Simon was born. Pavlik, after college, joined a chavurah, a group of Jews who regularly got together to mark Shabbat and other Jewish holidays. He studied conversational Hebrew for a year. Before Simon was born, my husband and I sang in our temple chorus. Months after Simon's birth, we brought him to chorus rehearsals so often that our infant was dubbed the "chorus baby." He alternately cooed or slept at rehearsals.
---