Jessica Simpson, Levi Johnston: bikinis, guns, and babies … oh my
(Read article summary)
Jessica Simpson dresses her infant in a yellow bikini, Levi Johnston follows through on naming his baby, Breeze Beretta, after a gun. And one "regular" mom, pregnant with her second child, sighs in relief that she's not dealing with a babe célèbre.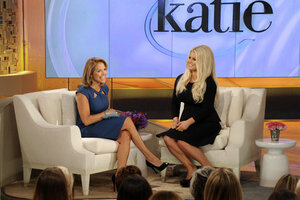 AP Photo/Disney-ABC Domestic Television, Ida Mae Astute
Thank goodness for the Levi Johnston baby and Jessica Simpson's baby bikini picture. Even Nick Lachey is helping me out today.
Because I'll admit it: with baby No. 2 on the way, we've been feeling a bit overwhelmed at my house. Not that we're not excited. Really.
It's just that.... I kind of used up all the parental planning with Baby M. Now we're just tired. (Sorry, second children out there.) So do we have a name picked out? Cute little outfits in the closet? An idea of where this kid will sleep? Nope, nope, more nope.
So you can imagine my relief when I checked the news today and found guidance in the celebrity world.
First up, Levi Johnston, the Alaskan who might possibly have been the most relieved man in the country about Sara Palin's 2008 vice presidential loss.
---