Warm tortillas: There's no competing with rural Mexican mothers
(Read article summary)
An American mother and disciple of "Super Baby Food" ­realizes – with one whiff of these warm tortillas – that she can't compete with rural Mexican mothers when it comes to homemade food.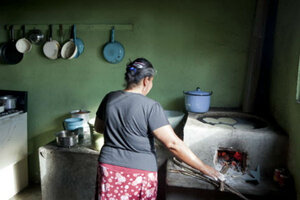 Melanie Stetson Freeman/The Christian Science Monitor
It was not until the morning that I awoke in Soledad Zambrano's home in the central state of Guanajuato, watching her carry a giant blue bucket of corn kernels behind her house, that I realized: As a new mother priding herself on feeding her baby only "homemade" food, I could never compete with the mothers of rural Mexico.
I followed her back to the covered shack where an old corn grinder was manually started by her husband, who had to use his body weight to get the wheel turning. Soledad carefully poured the corn into the contraption – dating back to the 1970s – to make dough, that she then pressed into disks and then cooked over a stone comal in her kitchen.
By the time we sat down for a lunch of cactus soup with dried shrimp fritters, an Easter specialty, with our requisite pile of tortillas, she had dedicated half the day to her family's basic consumption (this count excludes the labor of sons, husbands, horses, and donkeys planting and harvesting the corn in the first place).
Mexicans consume unfathomable quantities of corn tortillas. For them, it is the bread of Europeans or rice of the Chinese or Vietnamese. I used to marvel at the stacks placed in front of me at restaurants: I would barely make a dent, while Mexican colleagues would make it the whole way through.
---