Nurturing but letting kids tumble is the best strategy for parents
(Read article summary)
Nurturing your child constantly can stifle their growing independence. Remember that development is both internal and external.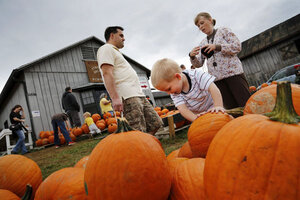 Reuters/Jonathan Ernst
Many of today's parents fear that if they don't give their children the right push out of the crib, they will not make it in this world of high-powered over-achievers. The fear is that anything less than a Harvard post-graduate degree will leave our children on the corner asking for spare change. The days of sending kids out to play to fend for themselves for hours on end are long gone. Instead we register our kids for music, French, math and gymnastics classes before they can walk, trying to give them the edge.
Multiple research studies have shown that parents who hold firm but nurturing standards and let go enough to give their children autonomy raise children who do better academically, psychologically, and socially than either over-involved parents who push their children toward achievement or under-involved and permissive parents who set too few limits.
Dr. Carol Dweck of Stanford University studied children's motivation by giving them simple puzzles they had no problem putting together. Some were told how smart and capable they were, others were not told anything. The ones who were left alone were more motivated to try more difficult puzzles and showed more confidence in their progress and ability.
Even so, parents have a hard time letting go of what they think will give their kids a head start. Media and marketing doesn't help to convince parents to buy less and allow their children to discover without all the bells and whistles. We give, we praise, we register in program after program hoping…for what? That our child will be rich and famous?
Our goal is to instill self-motivation and confidence in our children to get through the hard stuff. They don't need the way paved for them. They need our support and encouragement to deal with feelings of discouragement and disappointment, even failure so they can push themselves through the messiness to accomplishment. This is the sweet spot of self-esteem. It cannot be given to a child; it must come from within.
---