Cookbook review: 'Heartland'
(Read article summary)
'Heartland: The Cookbook' by Judith Fertig captures the comforts of the American Midwest through rich recipes and stories.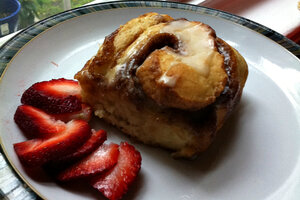 Lane Brown
As the weather gets colder, I turn to comfort food. The term "comfort" includes a lot of sensations – soups that warm my hands as I hold the bowl, beef roasts that remind me of school night meals as a kid, and tasty desserts served fresh from the oven.
Judith Fertig's latest cookbook "Heartland – The Cookbook" (Andrews McNeel, 2011) captures all of these comforts through her rich recipes and stories of the farmers, markets, cities and towns that produce great food across the middle of America.
While the comfort food recipes were the first to jump out at me, make no mistake; this is definitely a four-season cookbook. Ms. Fertig builds dishes from farm to table, highlighting harvests and peak seasons for ingredients. She also pays special attention preserving seasonal foods, sharing recipes for pickles, chutneys, and more that will please modern homesteaders and slow food fans alike.
I was raised in Michigan, granddaughter of hearty pioneer stock from Swanton, Ohio, where the family farm still stands today. Dishes in the book bring to mind holiday celebrations, family meals together, and childhood road trips around the Midwest.
Fertig pays special attention to regional delicacies and the cultural traditions that have spurred generations to prepare meals the same way as their ancestors. I appreciated seeing sophisticated twists that freshened the approach to dishes as familiar as chicken breasts and creamed corn.
In addition to her menu, Fertig builds a Midwest food narrative using quotes, interviews, and short essays throughout the book to deliver a rich food biography of the region. Fertig profiles farmers, fruit stand owners, and food purveyors who are shaping the modern food scene. Smokehouses, dairies, and heritage farms are listed alongside bakeries, potato chip purveyors, and craft breweries amid the recipes and in an extensive resource index.
The book is also beautifully illustrated with photos of sweeping landscapes, portraits, places, and animals that make the Midwest great. Lovely food photography in the kitchen is provided by Jonathan Chester and Ben Pieper.
One dough, six different recipes
Fertig's no-knead doughs are fantastic, serving as the pantry staple for multiple recipes in the book. The No-knead Clover Honey Dough is an anchor for six other breads, including the Cider-Glazed Cinnamon Rolls that I made (see recipe next page).
Recipes are well laid out on the page and descriptive, although probably worth an extra read for less-experienced cooks. The instructions are easy to follow but feature few in-process photos. Recipes also assume that basic supplies and skills are already in-hand. While most experienced cooks will appreciate Fertig's tone, one might think twice before giving this to a novice cook.
On that note, the book is more than a collection of recipes, but also a joy to sit and read – at home on a coffee table as a regional interest guide as it is on the kitchen counter.
(see recipes next page)
---