Cookbook review: 'Food of Life'
(Read article summary)
'Food of Life: Ancient Persian and Modern Iranian Cooking and Ceremonies' by Najmieh Batmanglij is a treasured collection of classic Iranian recipes.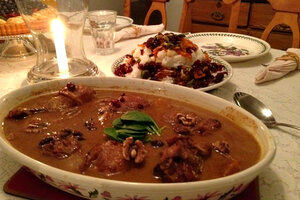 Evan Bryant
Persian cuisine has survived Alexander the Great, Genghis Khan, and the conquest of Islam. So I figured I couldn't do too much damage by trying out a recipe or two myself.
Armed with Najmieh Batmanglij's gorgeous cookbook, "Food of Life," I marched into the supermarket to find pomegranate molasses, saffron, and barberries.
Alas, I was in Vermont. In the winter. Nary a pomegranate seed to be found. I did find saffron – in the Mexican aisle. The featherweight package cost almost as much as an upscale lunch in Boston.
Barberries? I didn't even know what those were. (It wasn't until later that I discovered the helpful appendices Batmanglij provides, which include a glossary and a list of Persian grocery suppliers around the US and Canada. There you can read that barberries are a small, tart red fruit.)
But I was undeterred – and hungry to know something about Iran besides its controversial nuclear program, which I deal with frequently as the Monitor's Middle East editor.
---