Buttermilk pancakes for Pancake Day
(Read article summary)
Pancake Day, also known as Shrove Tuesday, is Feb. 12. Top these classic buttermilk pancakes with fruit and syrup of your choice for a sweet start to the day.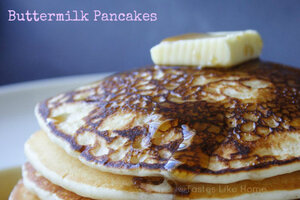 Tastes Like Home
Feb. 12, 2013 is Pancake Day. It is also Carnival Tuesday in Trinidad and Tobago, Panama, and Dominica – the last day of feasting and frolicking before the beginning of Lent.

While pancakes are enjoyed all year round, there is something special about having them on Pancake Day, especially the Guyanese-style pancakes which are more like the Portuguese malasadas, a direct influence of food of that country on Guyana. They are puffy nuggets of doughnuts. I like them the traditional way I grew up having them, with homemade syrup but for the past two years, I have also been rolling them into cinnamon sugar. They are so good with tea or your favorite hot beverage.
The easiest way to celebrate Pancake Day, though, is with these classic buttermilk pancakes. Enjoy them with your favorite fruit toppings and syrup.
Buttermilk Pancakes
Makes 8 to 12 pancakes
2 eggs, room temperature
2 cups buttermilk, room temperature
2 cups all purpose flour
2 teaspoons baking powder
---