The Blaze: reviews are in on new Glenn Beck website
(Read article summary)
Glenn Beck on Tuesday launched The Blaze, a news website Beck says aims to 'make sense of the world.' Some liked the look of The Blaze. Some thought it was a travesty of honest news.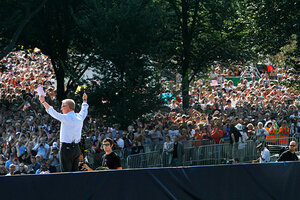 Jacquelyn Martin/AP
Watch out Rupert Murdoch, Glenn Beck has got news on his mind.
Yes, contrary to much media speculation over the weekend that Mr. Beck's next venture might be a run for political office, turns out he wants to join the crew of weary warriors in the world of online news gathering. His new website is dubbed "The Blaze."
According to Beck, the site is intended to give folks a helping hand. "If you are like me," Beck said in a statement, "watching the news or reading the paper can be an exercise in exasperation. It's so hard to find a place that helps me make sense of the world I see."
"We want this to be a place where you can find breaking news, original reporting, insightful opinions, and engaging videos about the stories that matter most," he added.
Join the conversation about Glenn Beck on our Facebook politics page
A project of Beck's own company, Mercury, it is headed up by managing editor Scott Baker, who hails from Breitbart TV and "The B-Cast."
The good, the bad, and the unprofitable?
Not surprisingly, The Blaze – like its founder – sparks strong emotions.
On the one side, there is political blogger Shel Horowitz, who writes about The Blaze in terms more commonly used in describing natural disasters. "The juxtaposition of 'Glenn Beck' and 'honest source of information' in the same sentence would be amusing, if it weren't scary," he writes in an e-mail. "Kind of like Fox calling itself 'fair and balanced.' "
---
Follow Stories Like This
Get the Monitor stories you care about delivered to your inbox.