US says Qaddafi must go, as action against Libya quickens
Hillary Clinton says Muammar Qaddafi must leave office 'now, without further violence or delay.' Global pressure intensifies with talk of no-fly zone and court inquiry into alleged crimes.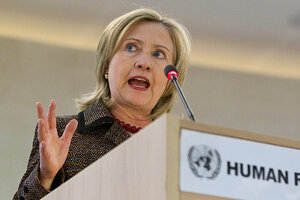 Salvatore Di Nolfi/Keystone/AP
Secretary of State Hillary Rodham Clinton on Monday made it crystal clear: The United States says Muammar Qaddafi must go.
Speaking at the United Nations' Human Rights Council in Geneva, Secretary Clinton said the Libyan leader's violence against his own people meant that he must depart his office "now, without further violence or delay." And the US is keeping "all options on the table," she added, to protect Libya's civilian population and to encourage a transition to a legitimate government.
Clinton's words came as global pressure on the Qaddafi government continued to mount, with the European Union formally adopting sanctions against the regime Monday and global powers discussing establishment of a no-fly zone to protect Libyan civilians from any renewed bombardments.
The US is already repositioning forces already in the African region in the event a no-fly zone is adopted, the Pentagon said Monday.
---