Michael Jackson doctor declines to testify. Was that his last, best chance?
Both the prosecution and the defense rested in the involuntary murder trial of Michael Jackson's physician as Dr. Conrad Murray declined to testify. Cross examination would have been brutal, analysts say.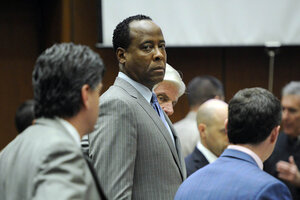 Kevork Djansezian/Reuters
After 22 days of intense testimony, both the prosecution and the defense rested their cases on Tuesday in the involuntary murder trial of Michael Jackson's former physician, Conrad Murray.
The announcements came after a brief, dramatic moment when the king of pop's former doctor was asked by Superior Court Judge Michael Pastor whether he wanted to testify on his own behalf.
Dr. Murray, a Las Vegas cardiologist, informed the judge, outside the jury's presence, that he did not wish to take the stand.
Murray might have made a sympathetic witness had he chosen to express his grief over the loss of Jackson, whom he has called a close friend. But trial analysts note that he would have come under blistering cross examination by Deputy District Attorney David Walgren, who would highlight every unanswered question about Jackson's death.
Closing arguments in the case are set to begin on Thursday at the Los Angeles County Courthouse. Jury deliberations will likely begin later that day.
The high-profile case featured a clash of medical experts and two sharply divergent theories of what may have happened in the final hours of Mr. Jackson's life on June 25, 2009.
Murray was charged with administering a lethal dose of the anesthetic propofol in an effort to help treat Jackson's chronic insomnia. He faces up to four years in prison if convicted and loss of his medical license.
---