1940 census records have over 20 million still alive today
1940 census: Information released Monday shows that more than 21 million US citizens who participated in the census over 70 years ago are still alive this year.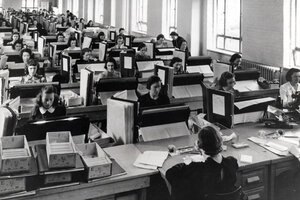 National Archives and Records Administration/AP
When the 1940 census records are released Monday, Verla Morris can consider herself a part of living history.
Morris, who is in her 100th year, will get to experience the novelty of seeing her own name and details about her life in the records being released by the U.S. National Archives online after 72 years of confidentiality expires.
"I'd be happy to see it there," she said. "I don't think anything could surprise me, really."
Morris is one of more than 21 million people alive in the U.S. and Puerto Rico who were counted in the 16th federal decennial census, which documents the tumultuous decade of the 1930s transformed by the Great Depression and black migration from the rural South. It's a distinction she shares with such living celebrities as Clint Eastwood and Morgan Freeman.
Morris, who has been working on her family history since 1969 and has written six books on its branches, said census records were essential for her genealogical work because oftentimes people don't want to give their personal information.
"Lots of times I just have to wait until maybe they die," she said. "Then I'll have all their information."
But census records, which include names, addresses and — in the case of the 1940 census, income and employment information — are rich with long-veiled personal details.
---