New Al Qaeda leader Ayman al-Zawahiri: Do his flaws diminish group's threat?
Intelligence analysts say Ayman al-Zawahiri, the successor to Osama bin Laden, is disliked in Al Qaeda as an irritable micromanager, but he's also a skilled military tactician and should not be discounted.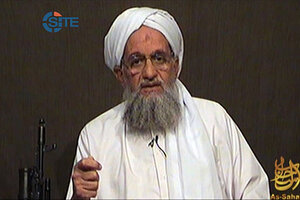 Site Intelligence Group/HO/AFP
An irritable micromanager disliked by even the organization's most loyal foot soldiers – it's not the sort of description you'd expect to hear of the mastermind of a global terrorist network.
But that is precisely the description that intelligence analysts tend to give of Ayman al-Zawahiri, the new head of Al Qaeda.
Not only is he widely believed to be a less-than-effective manager, US officials say, Mr. Zawahiri does not have the sort of "peculiar charisma" that Osama bin Laden did, Secretary of Defense Robert Gates told reporters last week.
And that's not all: Mr. bin Laden "was much more operationally engaged than we have the sense Zawahiri has been," Mr. Gates noted.
Such comments seem to give the impression that US defense officials were privately high-fiving each other after hearing of Zawahiri's ascension last week to Al Qaeda's helm.
So, just how much does the Pentagon have to worry about the former Egyptian physician, now the de facto No. 1 archnemesis of the US military? Pentagon officials have made it clear they still take the threat of Zawahiri seriously.
"I think we should be mindful that this announcement by Al Qaeda reminds us that despite having suffered a huge loss with the killing of bin Laden and a number of others," Gates said, "Al Qaeda seeks to perpetuate itself, seeks to find replacements for those who have been killed, and remains committed to the agenda that bin Laden put before them."
The Pentagon has also emphasized that the new leader of Al Qaeda, believed (for what it's worth, considering where bin Laden was found) to be hiding in the ungoverned tribal areas of Pakistan, should expect to be the target of a robust and ongoing manhunt.
---