Who is blocking a grand debt deal? Democrats, too, have their limits.
With the White House preparing for negotiations Sunday over a deal on raising the debt ceiling, House Democrats say they will not support cuts in Social Security or Medicare benefits.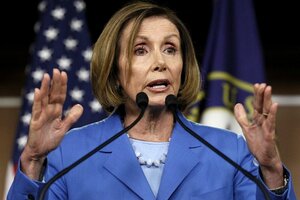 Alex Brandon/AP
Republicans who refuse to consider tax increases aren't the only obstacles to President Obama's bid to get a significant debt deal through Congress in time to avoid default as early as Aug. 2.
Democrats, too, have a point beyond which they will not go – cuts to Social Security and Medicare benefits – and want the president to keep it in mind as he prepares for a new round of negotiations at the White House on Sunday.
The White House has asked that congressional leaders lay out their bottom line negotiating positions at the Sunday meeting.
For that reason, a closed caucus meeting on Friday was a last chance for many Democrats to signal the White House and their own leaders what it will take to win their votes, once a deal comes to the floor.
"I came to Washington to protect Social Security and Medicare, not to dismantle them," says Rep. Jim McGovern (D) of Massachusetts. "These aren't just programs, they represent core values of the Democratic Party. You shouldn't be balancing the budget on the backs of seniors and poor people."
Democrats say they don't know what's been discussed in closed meetings so far, but are alarmed by what they're hearing in the corridors or reading in press reports. Republicans, too, say they are in the dark. The White House and congressional leaders have deliberately avoided discussing details before the deal is done.
---