January jobs report: Will 'OK' jobs market make politicians complacent?
Employers added 157,000 jobs in January, but the unemployment rate rose to 7.9 percent. Now, in a few weeks, sizable federal spending cuts could put an added damper on economic activity.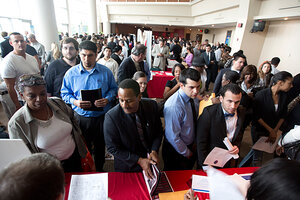 J Pat Carter/AP
US employers added 157,000 new jobs in January, an unexciting but solid total that helped to push the Dow Jones Industrial Average above the 14,000 level Friday morning.
A twice-monthly indicator of consumer confidence also rose Friday.
All this is welcome news, but it raises a question: With just about four weeks to go in high-stakes talks on fiscal policy, will these marketplace signals give politicians in Washington a false sense of security – a kind of license to engage in brinkmanship or do nothing?
It's an important query, because the economy remains in a fairly fragile condition, and the potential impact of the fiscal decisions on the economy are significant. In recent years, both America and European nations have seen some political standoffs resolved only after the marketplace sends signals of urgency.
If the sharply divided Congress can't agree to an alternative plan by March 1, then automatic federal spending cuts are scheduled to go into effect. Many economists believe this would weigh on job growth.
This comes as the economy is already moving slowly. Gross domestic product failed to grow in the fourth quarter (declining at a 0.1 percent annual rate), the Commerce Department reported this week. Economists are forecasting a slender growth rate of 1.6 percent for the current quarter.
American workers have been hit this month by a roughly 2 percent pay cut, due to the expiration of a temporary payroll-tax break at year's end. And despite employer job creation in January, the unemployment rate ticked upward a notch, to 7.9 percent, as more people joined the labor force.
The positive news is that the private sector has shown enough strength to keep chugging along in the past few months, despite lots of uncertainty surrounding whether federal taxes would rise (an early-January deal kept the tax hikes to a minimum) and whether the federal budget will face meaningful cuts (still to be determined).
---