Donald Trump's plan to lower $4-a-gallon gas prices
(Read article summary)
Donald Trump, sounding increasingly like a serious presidential candidate, suggests OPEC and a lack of drilling are the causes of high gas prices. He has a multipoint plan.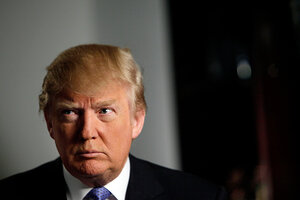 Richard Drew/AP
Believe it or not, Donald Trump is sounding more and more like somebody who might actually run for president. As opposed to someone who is just talking up running for president as a means to boost ratings for "Celebrity Apprentice."
In a Fox News interview a few days ago he noted that "a lot of people would be very upset if I didn't run." Plus, he keeps talking about how he'll announce his intentions after "Celebrity Apprentice" ends its season, because if he said anything earlier he'd have to put the show in a blind trust, or something like that. This implies that he is going to run, because if he isn't, he could say so anytime he wants.
"In my own mind, I think I've made the decision. I feel this country is just a disaster," he said on Fox.
Anyway, if he's really going to run, he's going to need positions on the big issues of the day. And right now the biggest worry for average Americans is gas prices. What would President Trump do about the high cost of oil?
That's easy – with his billions he'd buy every voter in the US a Ford Fusion hybrid. Demand would drop, prices would sag, and Detroit would boom, all without any kind of federal buyout. Winning!
Actually he's proposed nothing of the sort – we just made that up. But Trump has talked a bit about gas policy in recent days.
If the economy is to get back on track, oil has to drop to between $40 and $60 per barrel, Trump said Monday during his weekly appearance on "Fox and Friends."
---